ROLDA Founder trip to Ukraine August 2023
I got two NP's during my trip to Ukraine. Can you guess which one I took back with me home?
There are a few reasons why I decided to visit Ukraine: I got the feeling that our international supporters were getting bored with this subject, sometimes get skeptical, and many living in West Europe are getting frustrated to see a large number of expensive cars (over 100k euro each) with Ukrainian plates, driven by perfectly healthy guys who could stay to defend their country. I wanted to see the war zone with my own eyes, to understand what makes the rest of the people stay and defend their land; I also wanted to meet some of the rescuers whom we have helped since this unfair war started.
No good deed remains unpunished, it is said.
Customs seem to be all the same, no matter the country. After spending 2 hours crossing Rep Moldova, I spent 2 more hours to exit it to Ukraine because the broker made a typo mistake and added an E to my license plate number, which triggered the attention of customs, phone calls, email exchanges …and me waiting. I needed to fill out tons of papers, including handwriting a declaration that the items I was transiting through Moldova to Ukraine would not be unloaded and sold there. A true nightmare, which I had expected – and which sadly, discourages others who genuinely wish to fill their cars with products bought with their own money to drive and deliver to people who need help in Ukraine.
The fact is I stayed in customs more than I actually drove. At midnight, after another (almost) 5 hours at the checkpoint in Ukraine territory I was allowed to continue my journey. You will not believe it but the reason why they kept me in Customs for 5 (FIVE very long) hours was that they kept asking for an original paper which my contact from Ukraine had sent by phone. The Xerox copy was black and white, but on the phone, the stamp was blue, so they said they wanted to see it blue … and in the end, I was followed by two customs people to the nearest broker office (we walked like 200m) and he made a color copy which showed the blue stamp, which was called the original. Looking back, I believe they only wanted to keep me there, like a fool.
The problem was that when I finally could leave, the curfew had started in Ukraine (at midnight) and to continue to drive you need a green pass, which I didn't have. Not having it means you need to pull over and stay until 5:00 am when you can continue the journey. I was stopped a dozen times by military groups who asked me to stop, and every time I begged them to let me travel to the hotel in Odessa …they didn't know English, so we communicated by a phone application that translates what people speak into it. Finally, around 2 a.m. I checked into a hotel in Odessa which also has a shelter but that night, the sky was clear and I heard no bombs. In the morning, I started driving to the meeting point for Aleksey and his team.
Aleksey runs the Homeless World organization which helps people and their pets. He also has a center to rehabilitate dogs and some areas built for wildlife rescue. Aleksey and his team save injured animals from the front line and also evacuate animals from occupied or destroyed territories. When the dam was destroyed, the Homeless World team moved from the Kyiv area to Kherson to save animals in danger of dying in the waters and he remains there because Kherson is a hot spot partially occupied by the enemies.
I passed Odessa city which doesn't seem affected by bombs but has a lot of military activity. I met Aleksey and his colleague Toni who is only 18 years old and has served in the army since January this year. Together, we passed Mykolaiv (which doesn't seem touched by bombs, except some broken windows of a building at the edge of the city) and headed to Kherson.
As you drive to Kherson, the marks of the war get more and more visible. Houses have a blue cover instead of a roof, holes in the walls, buildings including gas stations burnt or completely destroyed, and cars are burnt. In between all this destruction, people defy this décor and continue with their lives. We stopped for a quick coffee break and I asked Aleksey where we were going to unload the items filled in my car. He laughed and replied: In Hell.
After a few more military checks, we reached a warehouse in a village which I was not allowed to film. I stepped out of the car and saw a dog hiding in the shadows under a car. I heard birds singing. The Ukrainian villages are similar to Romanian ones, people living there seem trapped in time. We visited a family who has an epileptic dog who has more seizures when the bomb noise gets stronger, also 2 cats who need sterilization, 3 other dogs, one of whom is very old, and another completely blind, which lives in a separate enclosure.
Aleksey delivers food to people who own pets and finds solutions to evacuate them when needed. He also hopes to be able to sterilize dogs and cats in this region, but every 300 animals costs 15000 USD (only for surgery and medicines) which shocked me because these are the prices we pay here including recovery after surgery. After meeting some pet owners from the village, I kept expecting to go to Hell as Aleksey had said.
From the beginning, I refused to wear a helmet or bulletproof vest. I had different reasons but also agreed with what they explained to me. Toni said that a vest without a helmet is kind of stupid because your head is an important asset too, and you don't want to be hurt by bullets. In case we were bombarded, I was quickly instructed (using the phone application that translates words) to cover my head with my arms and duck down into some ditches in the ground, which can be observed along the road. I had a walkie-talkie to use if needed and was asked to switch phones off.
In the case of bombing or a sniper shoot, no vest or helmet will protect me, I was told. Going to the next village, located at the edge of the gray zone (the so-called no man's land between the Ukrainian front and Russian-occupied territories) I kept hearing in the walkie-talkie: don't stop, don't stop …and I was busy avoiding the small and large holes made by bombs not long ago in the road.
There was no shooting while I was driving. We reached another warehouse where we unloaded the canned food for people and the dry food for animals, plus some medicines. This is the warehouse of collaborationists. They run a small shop located close to the villas of the former president of Ukraine, Yanukovych, a member of the pro-Russian party.
The villas were used for wild parties and obviously would have many stories to tell. When the dam was destroyed, the whole valley where these (and other houses) are located, was flooded.
Aleksey drives the ambulance around and rescues animals on the front line or during flooding. Despite two of his drivers previously being shot/killed by snipers, they managed to later make a sort of agreement to cease fire for men from his team who don't carry weapons and aggressive badges (as they called them), but a medical red badge (which both Aleksey and Toni had when we walk around) which means they are medical staff who go to rescue and not kill.
I was told that Kherson is full of collaborationists and many people are pro-Russians there. After unloading supplies, we moved 1 km further in the gray zone where I saw 2 different signs of landmines and Toni said that if we walked further, we should stay 5m away from each other in case one exploded. I asked Toni (who speaks some English) if since he is in the army, he ever shot to kill someone. He hesitated and then replied that not in the area where we were. He said that since we stopped the car, stepped down and walked, we were in sight of both Russian and Ukrainian snipers but we were safe because they wore the red badge.
Toni said that they take each new day as it comes and there are many positive and negative aspects to this and naturally, I asked what the positive aspects were because I looked around in that particular spot, expecting to see the sniper in a tree or somewhere …but couldn't see him or imagine anything positive. And then he told me that saving lives is what keeps him going. At the age of 18, being a soldier, he believes that saving what war destroys is the positive part of his mission. Amazing, isn't it?
So let's return to the beginning of my story "The two NPs I got during my trip in Ukraine" are: the first dog I held in my arms there, a lovely black puppy that was loaded into the ambulance minutes later …and a piece of bomb which has two letters on it an N and a P. Remember the house of collaborationists I mentioned above? It was damaged by a bomb and near it, there was a warehouse completely destroyed. A senior German shepherd called Baghera is the guardian of those ruins. The house owner showed me pieces of bombs that caused the destruction and offered me one – I didn't know if to accept the gift or not. Before leaving, I decided to take that piece and on it, I noticed the letters NP. I was told this is the tail section of an aerial bomb.
The sound of bombs I heard during the few hours I spent there, watching the destruction people cause to other people is unforgettable. Every time a bomb explodes, it sounds like fireworks on New Year, but one a time and stronger. The piece I held made the same sound before falling near Baghera's warehouse.
Remember I mentioned some birds singing? When they feel the bomb, they start flying randomly, desperate until it is quiet again. You know the bomb missed its target/you as soon as it is silent again… and you look around but what you see it's not Hell – it's life and hope.
Can I challenge you with a question? Which NP of the two, do you think I brought home?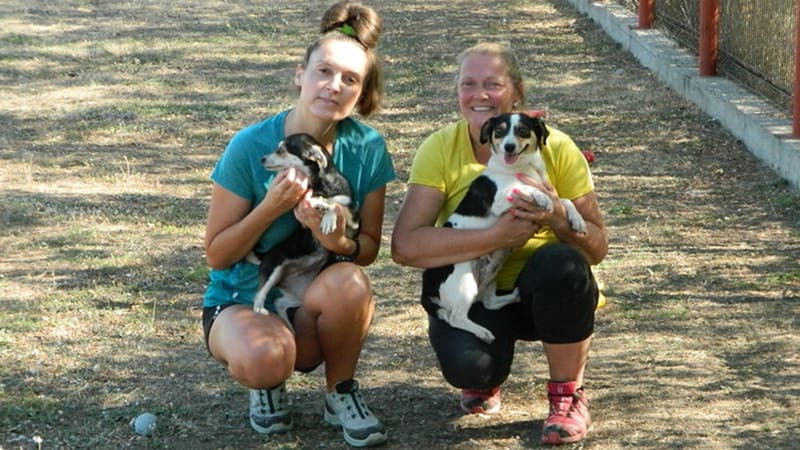 June 21, 2023
ROLDA President's Message May 2023
ROLDA Sverige was founded in 2014 by Lisa, and a group of volunteers dedicated to helping homeless animals live better. The main goals of this association are to help ROLDA Romania: fundraise to keep our shelters functional and rehome dogs from our shelters in Sweden.