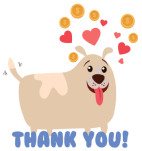 Thank you, ,
for taking the time to complete our survey!
Dear ,
At ROLDA, we are always striving to strengthen the bond with our supporters.
Your feedback is valuable because it helps to ensure we provide you with the best possible experience as a ROLDA supporter. We are trying to learn more about how we can customize your communication preferences and help you understand how we use your donations.
Thank you again for sharing your thoughts with us. You have been extremely helpful (as always!).
And remember that you are always welcome to send us your comments and suggestions via email at rolda@rolda.org.
About ROLDA
ROLDA is an international animal welfare organization that rescues, rehabilitates, and rehomes stray dogs in Galati, Romania. We also help cats, horses, donkeys … any animal who needs saving. Our sanctuary provides refuge to 700 dogs (and one donkey), and we are trying to build shelters for cats, horses, and donkeys.
ROLDA works tirelessly to build a world free from homeless, unwanted animals that suffer terribly on the streets, and where animals are not exploited, abused, or abandoned. A world where we stop destroying their natural habitats for our selfish needs.
ROLDA believes in a future where people and animals live together in harmony.
With respect and hope,
The ROLDA Rescue Team